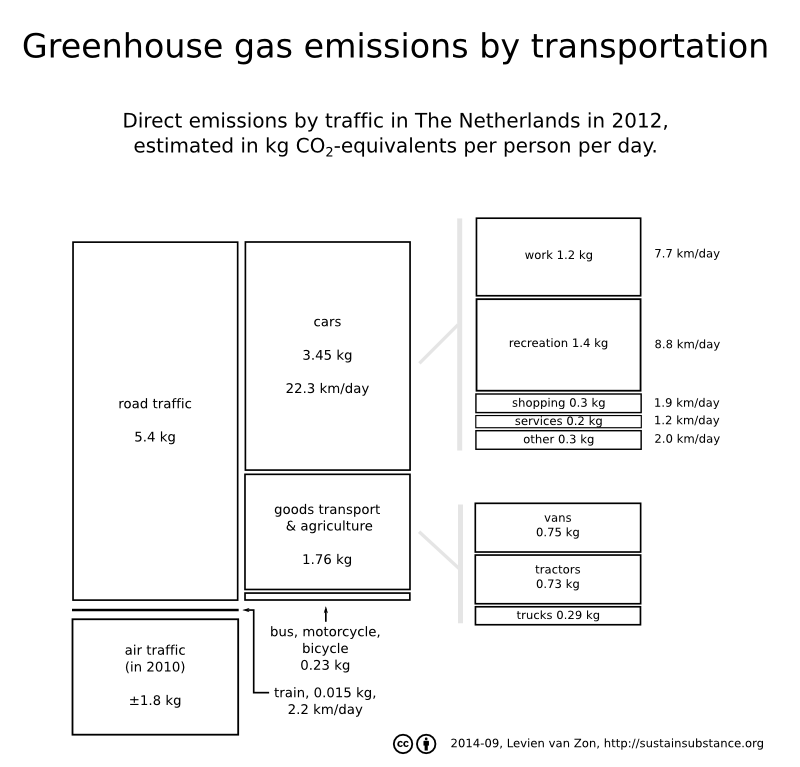 This figure gives a rough overview of the carbon-emissions caused by transport in The Netherlands, in kg CO2-eq. per average Dutch person per day in 2012 (click on the image to enlarge). You can see that road traffic is responsible for by far the most emissions (5.4 kg). Especially cars contribute a lot (3.45 kg). The average Dutchman in 2012 traveled around 22 km by car. Nearly 8 km of this distance was for work, and 9 km was for recreation and social purposes (including vacations). While the average Dutchman also traveled 2.2 km per day by train, this caused almost negligible emissions.
Air transport also contributes significantly to greenhouse gas emissions, even though cars contribute almost twice as much. The average Dutch person in 2010 traveled roughly 3700 km by plane, which comes down to about 10 km per day, with an emission of around 1.76 kg CO2-eq. per inhabitant per day.
In this figure, transport of goods contributes roughly as much as air transport, around 1.76 kg CO2-eq. per person per day. However, these figures only include road transport of goods within The Netherlands, as well as the use of agricultural vehicles. Because The Netherlands imports many of its consumption goods and resources from abroad, over relatively large distances, we can assume that the actual emissions for transport of consumption goods are many times higher than estimated here.
---
Sources: